We are proud to announce the retirement of Debbie Green, effective June 30th, 2023. Debbie is the longest standing employee at Insurance Store, and over the course of her 45-year career, she has built excellent relationships with her customers as well as her fellow colleagues. Debbie's wealth of knowledge will be missed by all of us at Insurance Store.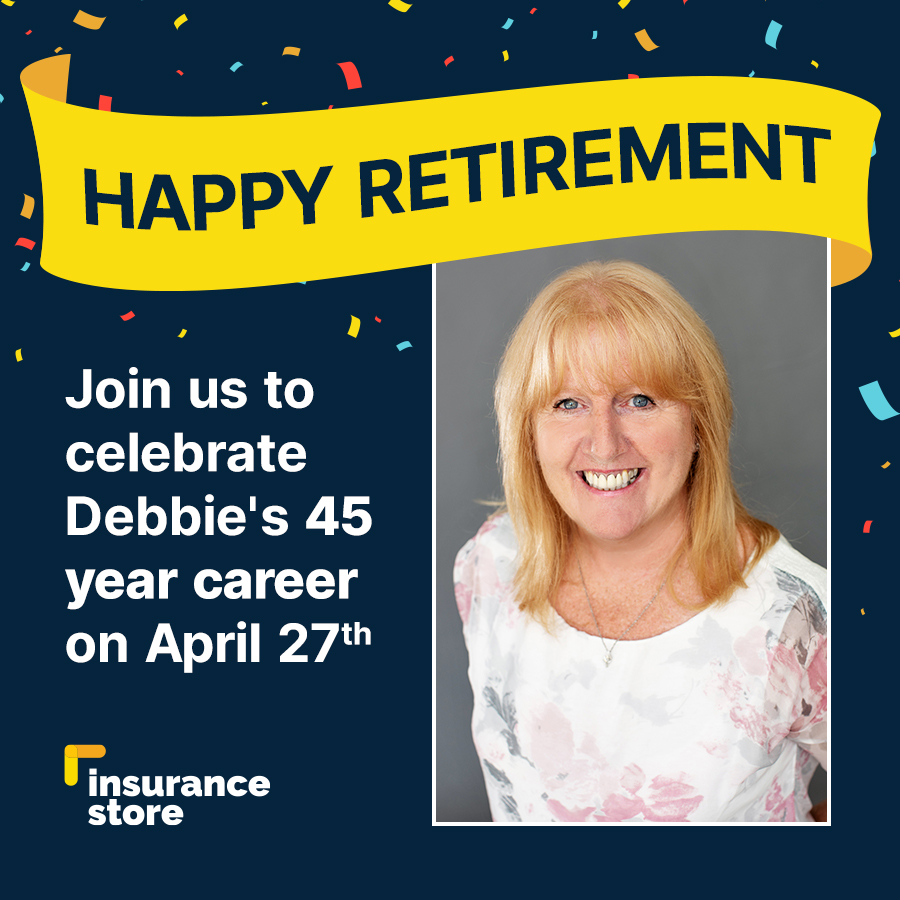 Please join us on Thursday April 27 from 1:00 – 4:00 to congratulate Debbie on an amazing career. Her loyalty and dedication to our business is second to none and she will be greatly missed!
For those of you who are not familiar with the story of Debbie's 45 years with us, we thought it was appropriate to share:
Debbie began her career with Noble Insurance at the Creemore, ON office in 1978. It was a temporary summer job, and her first role was looking up postal codes to update the addresses of policyholders. It was not long before that role changed, and she became responsible for document processing. By the end of that summer, she loved it. Once that summer job finished, the Noble's asked her if she would be interested in continuing to work for the firm. She agreed and shortly after became licensed. (Noble Insurance always encouraged all employees to get licensed – a tradition that we continue to live by today.)
When obtaining her license, Debbie received the first-place achievement award in Ontario for the basic broker registration course exam! This was the beginning of a very successful career that was to follow.
Debbie went on to manage both the Creemore and Stayner branch offices for Noble Insurance, while simultaneously developing a successful career as a farm and commercial lines broker alongside raising a family. Eventually, she ended up working from the Collingwood office, where she remains today.
One of the most important things to Debbie is family. She is looking forward to every moment she can enjoy with her husband Ron, her children Ben & Angie, their spouses, and her 4 gorgeous grandchildren, Olivia, Ross, Charlotte, and Violet. We are sure Debbie will be also spending more time at her favorite places: the cottage and the golf course.
Congratulations, Debbie!